INTERNATIONAL PROJECT "APPALACHE-CARPATHIANS: STEEL DEVELOPMENT OF MOUNTAIN REGIONS" IN ACTION
Четвер,21.09.2017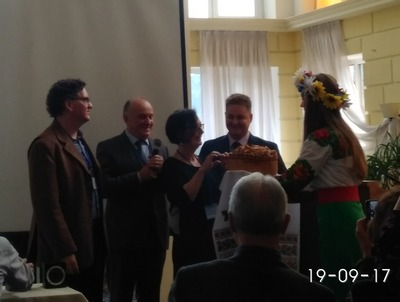 Recently, teachers of Ivano-Frankivsk college of the "Vasyl Stefanyk Precarpathian National University" (Professor Yurii Moskalenko, Associate professor Roman Poznansky, lecturers Yaroslav Nykorak, Natalia Protsyshyn) and the university representatives (Professor Olena Budnik, associate professor Inna Chervinskaya and Andriy Chervinsky, teacher Sergey Sidorov) took part in the scientific conference "Appalachian Carpathians: Sustainable Development of Mountain Regions: Models, Problems and Prospects" organized by the American side in Yaremche and Rakhiv. There were 20 participants from various US universities of the Appalachian Research Center.
At the conference were presented interdisciplinary issues on sustainable development of mountain regions of the Ukrainian Carpathians and the Appalachians in its comparative context, in particular: ecology, health care, leisure activities, provision of quality educational services, economic development, etc. For example, Professor Donald Davis clearly identified the models of Carpathians and Appalachians sustainable development, outlining its perspectives, taking into account the results of sociological research. Professor Yurii Moskalenko presented the results of the 10-year work of a group of scientists on the project "Mountain School. State. Problems Prospects for Development ", identified the peculiarities of the mountain schools functioning in the Ukrainian Carpathians.
A pleasant surprise for the participants of the conference was the folk song congratulation in the Ukrainian tradition style and "bread and salt" meeting of the guests. Associate Professor Roman Poznansky highlighted the problems of foreign language studying of children and young people in mountain regions. Professor Christopher Miller spoke about his impressions and results of work on the mentioned project, analyzed common and excellent ethnographic elements in the folk crafts of both regions, which are decisive in national identity forming, shared his thoughts about the prospects for further cooperation on studying the traditions, customs and rituals of the inhabitants of the mountain regions in Ukraine and the USA. Professor Rebecca Fletcher shared her thoughts about sustainable policies of health care for the inhabitants of United States mountainous areas, focused on human health and the environment synergy dispropotions in the Appalachians. Professor Teresa Burris highlighted the issues related to the prospects for agriculture and forestry sustainable development in the central Appalachia, in particular some aspects of deforestation problem, healthcare and policy change.
Professor Olena Budnik presented the results of a comparative study of the adolescents value orientations in the mountain schools of the Ukrainian and Polish Carpathians; Associate professor Inna Chervinska, associate professor Andriy Chervinsky and teacher Yaroslav Nikorak presented the influence of mountain areas geographic factors on educational and social-cultural development in the Ukrainian Carpathians.
Professor Sergey Sidorov shared his interesting thoughts and videos about the implementation of inclusive education in the Ukrainian Carpathians, using the comparative analysis on ensuring the equal rights to qualitative education for people with special needs on the basis of internship in the United States. Other participants presentations from Ukraine and the USA were no less interesting and meaningful.
The extremely stirring and positive atmosphere of the mountain region promoted to a productive discussion and the development of strategies for further cooperation.